Sometimes, the regular post just won't cut it for deliveries. You can't always rely on your daily mail carrier service in Arizona to get an important document or package to your recipient quickly. When you absolutely need it delivered, on-time and with verification, One Hour Messenger, Inc. is standing by.
We offer convenient courier services in Arizona, with the sole focus of getting your packages into the hands of the people they're intended for. We've been doing it for more than 30 years, with a proven 97% rate of on-time performance percentage that we're proud to stand behind!
Our team is available for one-time and recurring deliveries, and we work with a broad range of customers. We have experience delivering documents and packages of all types, including medical documents, construction plans, art, confidential documents, and more. Just get in touch with us to schedule package delivery now.
Our Courier Services
If we can safely deliver your package, we'll do everything in our power to get the job done. From small parcels like envelopes to boxes, to entire truckloads, we'll handle your items with integrity. Consult with us during scheduling if you're unsure about delivery for your item. Our general guidelines are as follows: Anything that can be delivered by one person Up to 1,500lbs at a moment's notice Up to 5,000lbs with a scheduled same-day delivery.
Track Packages and Bill Pay
We're pleased to offer digital solutions to our customers. Through our website you'll have access to a broad range of tools and resources, so you're always confident and in control of your delivery. Some of the features we offer include online bill payment, paperless invoicing, and shipment tracking. Track mail and more from anywhere to make sure it's getting where it needs to go!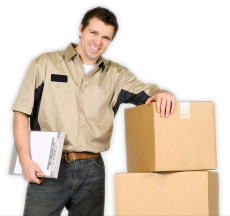 We're Ready to Deliver
Need to get your package to its destination quickly, reliably and on-time? Leave nothing to chance: Contact One Hour Messenger, Inc. and send your package with confidence. Our success rate speaks for itself and we promise you'll quickly become one of our many satisfied customers. Contact us today at 480-497-4696 to schedule a delivery in Gilbert, Mesa, Phoenix, or Chandler, AZ.
Please note, we do not accept hazardous or combustible materials, or oversized items requiring more than a single person to handle. All courier services are ground-based; we do not offer air freight services.