State-Wide Courier Company in Gilbert, AZ
One Hour Messenger, Inc. has committed to providing our clients with the quickest, most reliable on-demand same-day courier messenger service throughout the State of Arizona over the last 30 years. Our service area covers the entire Phoenix metro area, including Tucson, Prescott, Flagstaff, and beyond. With both online and over-the-phone tracking options, you can rest assured we'll get your package to wherever it needs to go, safely and on time.
Contact us to learn more about same-day delivery.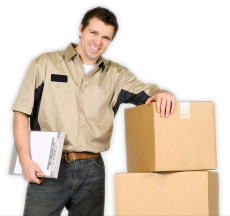 We can deliver just about anything, from a single important envelope, to packages weighing 1,500lbs at a moment's notice, to 5,000lbs with a scheduled delivery!

Courier Services

We have 97% rate of on-time performance percentage of delivery. Reports are generated directly from our scheduling system to ensure total transparency.

Track a Shipment

Owner Mik Casto exclusively manages all customer support and inquiries. You'll get the accountability you deserve, from the top-down.

Read Our Reviews
Same-day Delivery, State-Wide
If you need a package delivered quickly, your options are limited. Luckily, you only need to make one call: One Hour Messenger, Inc. We do what other delivery services can't and get your items into the hands of their recipients same-day, state-wide. Whether it's an important document, sensitive piece of art or a truckload of important equipment, you can count on us for delivery.
As the leading courier company in Arizona, we go out of our way to ensure a smooth, successful delivery. We have courier services available to handle most items, with special same-day deliveries available for those ultra-urgent items. Just tell us what you need delivered, specify a delivery window and we'll take care of the rest. We even have the digital tracking and confirmation tools you need to track and verify your delivery confidently.
We get to know your expectations upfront and understand the logistics of your delivery.
With rate sheets readily available and tons of resources through our website, you're in control of your packages like never before. When you use One Hour Messenger, Inc., you're not at the mercy of urgency: We put time on your side! With a network of drivers and couriers across Arizona, we welcome the challenge of super-fast delivery. Put us to the test the next time you have an important parcel and we promise you won't be disappointed.
We rely on state-of-the-art technology to serve our customers, including paperless invoicing, online bill payment, delivery tracking and much more.
Our fleet of delivery drivers operates state-wide. We take pride in helping our drivers maintain a happy work-life balance, while getting your packages delivered on-time.
Count On Us to Make the Delivery
For over 30 years One Hour Messenger, Inc. has been the most successful courier company for the business needs based out of Gilbert, AZ dispatching throughout all of Arizona.
If we can safely complete your delivery, we'll do it! Our team will make every effort to accommodate your needs and ensure your total satisfaction. Contact us today!